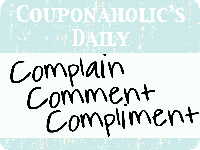 If you have missed any previous Couponaholic's Daily posts, click on the button above.
So, my husband watches the CBS Sunday Morning Show almost every Sunday morning before church. Occasionally, I will peek over to see what's on. This morning had a segment on "Batter Blaster" a pancake mix that comes out of a can like Whip Cream. My first thought was...YUK! I am not a huge fan of processed goods out of a can (ie, easy cheese); however, this stuff looks great! It is easy to put on the griddle, already mixed up, and allows you to make a more controlled amount of pancakes. Best yet...it is ORGANIC! It isn't processed like most canned goods. So, after being so long winded...let's contact 'em.
Outgoing: Batter Blaster (website -- contact email -- coupons? sign up for their mailing list by clicking on the picture below, then clicking on "Save on Batter Blaster"
"After watching the CBS Sunday Morning show, I went out and got Batter Blaster right away. I am so impressed that you have made something so convenient, so tasty, and at the same time ORGANIC! I will be buying your products for a long time provided I can afford them! I also love writing letters and other things on the griddle:) Thanks again! Karissa"
Be sure to comment if you have had any luck with or know of a good company we should contact! This is a lot of fun to do together:)