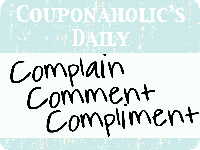 If you have missed any previous Couponaholic's Daily posts, click on the button above.
Today marks the beginning of Lent. Did you give up anything for Lent? We would love to help you stay accountable for the 40 days leading up to Easter. Another great idea I heard last year was adding something, whether it be spiritual or something else that helps you grow in your walk. 40 days is a pretty good length of time for developing habit!
Are you Pledging anything? Whether you are a believer or not, it is a great time to "dust out your life!"
Be sure to comment if you have had any luck with or know of a good company we should contact! This is a lot of fun to do together:)