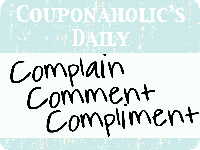 If you have missed any previous Couponaholic's Daily posts, click on the button above.
WOW, great game huh? After viewing some great commercials during the game, I think we should contact some of our favorites. I will put three of my favorites up, but please comment and add your favorites. Of course, I am only contacting those companies, which have a product worth emailing for:)
Outgoing: Doritos
"I am a chipaholic, and I loved your Superbowl commercials! I get really excited when I get a good deal on your small bags to take for lunch! Thanks again, Karissa"
Outgoing
:
Pop Secret
"Thanks for making such great popcorn. I also loved your commercial during the Superbowl. I love to pack this healthy snack for lunch! Thanks again, Karissa"
Outgoing
:
Snickers
"I have a "sweet tooth" and my favorite cure is a Snickers! I love your candy bar (and I liked your Superbowl commercial too)! Thanks again, Karissa"
Be sure to comment if you had any other favorite commercials! These were pretty good ones:) Oh, I guess the game was good too, ha!