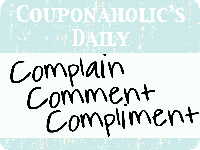 If you have missed any previous Couponaholic's Daily posts, click on the button above.
Cuties...enough said.
Outgoing: Cuties
"I put Cuties in every lunch I pack, every day! (That includes my daughter, husband, and myself). I love how juicy they are, but they are also the easiest citrus ever! Thanks so much for such a great product! Karissa"
Be sure to comment if you have had any luck with or know of a good company we should contact! This is a lot of fun to do together:)