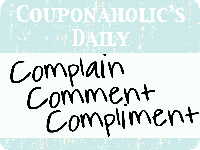 If you have missed any previous Couponaholic's Daily posts, click on the button above.
Some randoms today...
Outgoing: Good Sense Pizazz Salad Toppers
"I use your salad toppers on everything! I find myself eating straight out of the bag. Thanks so much for a great product, Karissa"
Outgoing: Fruit2Day (Hero White Wave Fruit/Juice)
"Your products have allowed me to "sneak" fruit into my husband's diet! He LOVES everything you make (especially the Fruit Bits)! Thanks so much, Karissa"
Incoming
: Pregnancy Diary (from a long time ago!), Kashi (1 FREE Heart to Heart, and 3x $1.50/1 Heart to Heart, Heart to Heart Sample), $1/1 Rosina, 1 FREE Heluva Good! Product (up to $4.99).
Be sure to comment if you have had any luck with or know of a good company we should contact! This is a lot of fun to do together:)