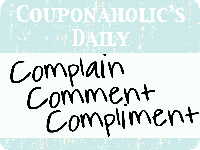 If you have missed any previous Couponaholic's Daily posts, click on the button above.
Clean it up! With the change of weather, there is always a bit of sickness going around. Be sure to wash your hands...or use an antibacterial:) There are a ton of brands of these now, but these are two of my favs! If you have a fav, leave us a comment and/or contact info for them.
Outgoing: Germ X Hand Sanitizer (email)
"I just wanted to drop you a quick thank you for making your hand sanitizer. As a nurse, I really see the importance of keeping germs away and I trust you to help keep my family healthy:) Thanks again, Karissa"
Incoming
: FREE Softscrub Kitchen All-in-One (Softscrub Captain), Puffs to Go Sample AND 1x$1/1, and 5x $.50/1 Puffs Coupons, 2x $1/1 Wonderful Pistachios
Be sure to comment if you have had any luck with or know of a good company we should contact! This is a lot of fun to do together:)