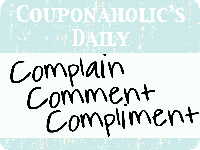 If you have missed any previous Couponaholic's Daily posts, click on the button above.
HAPPY EASTER! He is RISEN! I wanted to contact a couple of companies quickly today, so here are two of my daughter's favorites:
"I just wanted to drop you a quick thank you for making your cheese. My daughter (19 months) loves your cheese melted on a bagel for lunch! We love your products! Oh, and you have a cute logo! Thanks again, Karissa"
Be sure to comment if you have had any luck with or know of a good company we should contact! This is a lot of fun to do together:) Again, Happy Easter!