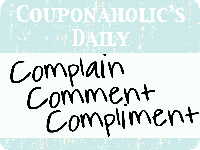 If you have missed any previous Couponaholic's Daily posts, click on the button above.
So, if you know me or follow the blog regularly, you know I am a bit OCD when it comes to cleaning. So, I was really excited when I got a new dusting product (a little pathetic) Endust. Check out the deal I got on it today.
Outgoing: Endust
"I just wanted to drop you a quick thank you for making such an awesome product! I am obsessed with cleaning, and your products make my life so much CLEANER (and easier). Thanks again, Karissa"
Be sure to comment if you have had any luck with or know of a good company we should contact! This is a lot of fun to do together:)